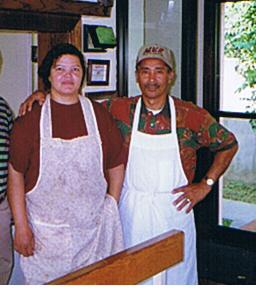 Mr. and Mrs. Chandler have been married for over 30 years. They have lived and raised their family in Knoxville. In 1997 Gwen Chandler was working for Levi's when they relocated their Knoxville plant. In 2000, as Charles Chandler was nearing retirement from K-25, the Chandlers began thinking of what they would like to do next.
Charles had always had a passion for curing meat and wanted to look into doing that full time. After they were unable to find a suitable facility they decided to look into doing something else. One afternoon while giving his youngest daughter a driving lesson Mr. Chandler saw a building for sell. After looking at the building they wanted to do something simple - sandwiches. While doing the paper work they decided on the name of Chandler's Deli. One day while looking for something to eat Charles realized that there were not any family restaurants where you could go and get a good home cooked meal in the area. After thinking about it the Chandlers decided to do a full menu, dine in resturant.
The Chandler's wanted something they could do part-time and something the whole family could be involved in. The Chandler's own personal skills fit perfectly into their new plan. Mr. Chandler loved to BBQ and Mrs. Chandler was a great cook.
On May 19, 2000 Chandler's Deli was opened for business!
3101 Magnolia Ave., Knoxville, TN 37914 Ph. 865-595-0212 Fax 865-595-0213